The Network with Kaleidoscope Eyes
Kaleidoscope, the exclusive network for virtual reality creators and industry leaders, is revamping its business model. To help worthy virtual reality content go from an idea to 360° screens, founders René and Selena Pinnell adjusted their approach to better serve an ever-evolving industry.
In the past, a $200 monthly fee entitled members to exclusive previews of premium virtual reality content curated for quality and artistry. In turn, members had first-look access for sales and licensing. Kaleidoscope still insists on vetting its network members, but the payment requirement is now history.
The demand for compelling immersive content has yet to evaporate. As companies invest in VR infrastructure–hardware, software, cinemas, distribution channels–they also need to refuel interest in the medium to attract new viewers and keep the industry moving forward.
An exclusive network to invest in the next wave of great virtual reality and augmented reality projects.
Getting quality immersive content made still drives Kaleidoscope; guidelines that ensure artistic merit and criteria for diverse representation must be followed. Kaleidoscope then deploys the carefully cultivated personal relationships with decision-makers to secure funding. For this new role of active liaison between investment parties and creatives seeking development, Kaleidoscope takes a percentage.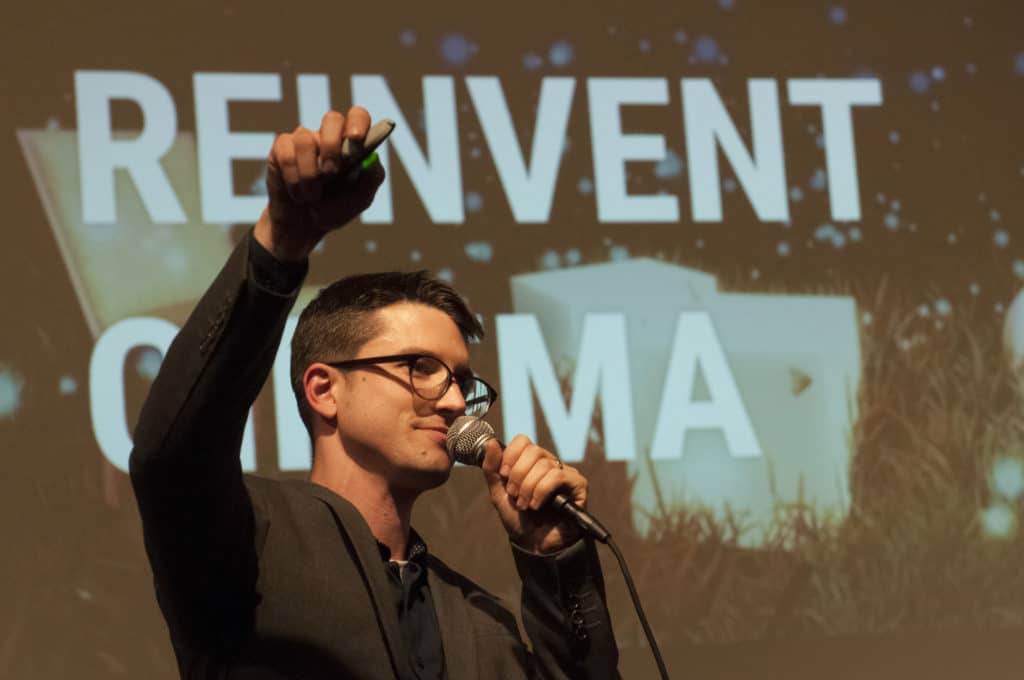 Kaleidoscope 2.0 is akin to Silicon Valley's angel investor business model. The advantage is the small network allows for a more human and selective approach. With a number of projects currently in development, Kaleidoscope expects to foster a more robust industry with not only the emphasis on diverse backgrounds and voices, but well-chosen pieces.
The new strategy seems successful; one of their recent development endeavors earned the top prize at the 2018 Venice Film Festival. Kaleidoscope, according to René Pinnell, "acted as the tentpole" for Spheres, the first immersive piece to command seven-figures for production. Once attached, Kaleidoscope paved the way for other critical stakeholders, like AtlasV and Intel, to join.
A three-part series that lets viewers explore the depths of space in VR. In an unprecedented move, VR financing and distribution venture CityLights acquired Spheres in a massive seven-figure deal
GO FOR GREENLIGHT AND THE FLOW​​
To manage deal flow, Kaleidoscope will also be offering proprietary technology in a platform designed specifically for creatives and investors. Pinnell is clear, however, "Kaleidoscope is not a production company or investment firm, but rather offers a slow and sustainable way to increase the number of artists who can get their work funded and made."
After the project funding is secured and the shoot wraps, VR makers still need to lock down distribution and licensing deals. The Kaleidoscope network is invited to FIRST LOOK, where an exclusive group of VR publishers and distributors, C-level executives, festival/museum curators, marketing and entertainment industry leaders come together for advance previews.. Curators from top-tier festivals like Sundance, Tribeca and SXSW are attendance, too.
Kaleidoscope is not a production company or investment firm, but rather offers a slow and sustainable way to increase the number of artists who can get their work funded and made.
The next FIRST LOOK is scheduled for fall 2019; the Pinnells took a year off event planning and logistics with the recent birth of their son, opting instead to focus on Oculus DevLab participation. In the meantime, announcements about the new platform and technology are expected in the first half of October 2018. 
Artists and VR makers can find out more about the invitation process here while investors and producers can learn more here.
Hot News for Artists
from the Kaleidoscope news release:
RYOT, the immersive media company and Academy Award-nominated studio, announced a partnership with the funding platform, Kaleidoscope and leading VR platform, Oculus, to produce DevLab 2018, an VR/AR artist incubator that has generated groundbreaking immersive content such as Spheres, Battlescar, Tree and RYOT's own Vestige, among many others.
Building off the success of the first program in 2016, the second annual DevLab will take place in Los Angeles from November 10 - 11, bringing together emerging VR/AR artists to cultivate new work, explore novel ideas and create the future of immersive experiences.
The selected ten participants will work alongside advisors from diverse backgrounds – including architecture, game design, immersive theater, magic and storytelling – to hone their craft and advance their work via hands-on workshops, live performances and roundtable discussions. Creators will leverage their learnings from DevLab to develop a working version of their project, which they'll later present to 250 industry leaders at a "First Look" event in 2019 for the chance to secure funding.
Artists and creators will be selected by the Sundance Institute's Kamal Sinclair and Ruthie Doyle. Applications to participate in DevLab 2018 can be found here.