Going Dome with Igloo
The popularity of cinema-in-a-dome took a circuitous route.
The first geodesic dome for commercial purposes was built for the sky and stars. Around the first World War, Zeiss optical made a dome in Germany to house a planetarium. Later, in the United States, the architect and futurist R. Buckminster Fuller popularized the shape during the fifties and it became a phenomenon, even being adopted by the US military for storage and experimental labs.
It was only in the 1960s when the iconic Cinerama Dome–the first igloo-shaped movie theater-appeared in Hollywood. But it was not until 2007–and 5,400 miles (8,700 km) away–that a group of dance music geeks breathed new life into the geodesic dome.

Recently refurbished, the Cinerama Dome is still in operation on the corner of Sunset Boulevard near Ivar Avenue in Hollywood.
Like its German progenitor, the geodesic dome linked with VR originated from another end-use: the desire to hold an unforgettable birthday party. British "dance music geeks" had purchased an old geodesic dome to create a venue in which they could also project images in 360. The geeks used their own tech know-how and open-source software to create their self-enclosed environment and began to wow audiences; during festival music season, they took their dome on the road. People took notice, sparking ideas along the lines of "Hey, that would be a good place to …" and by 2009, Igloo was building abroad. Its first trade fair installation was at a gaming convention in–where geodesic domes began nearly a hundred years ago–Germany, no less.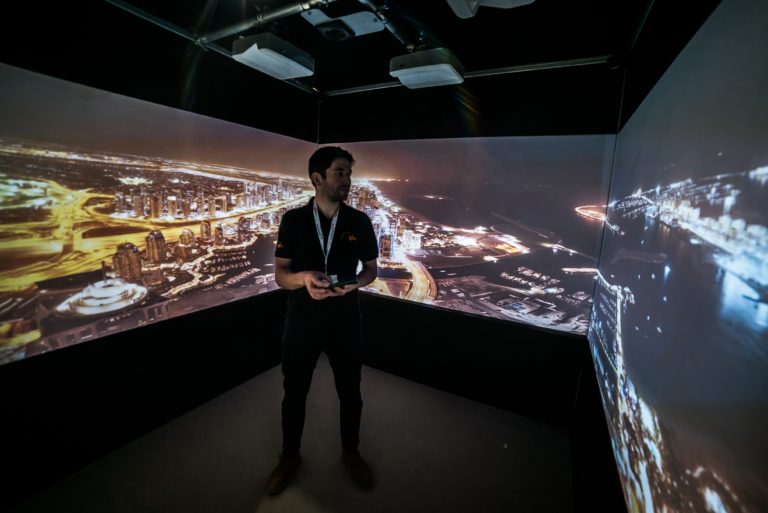 Beyond History & Headsets
Like the dome-centric planetarium and movie theater of yore, viewing with others has always been part of the human essence (people are, after all, social animals)—viewing in the dark with strangers or friends has different dimensions than viewing at home. At the same time, words like "immersive" and "experience" were being solidified in the modern-day zeitgeist thanks to Oculus, Vive, Facebook and Google. Yet, something was missing from the growing VR headset army and Igloo tapped into it: the Shared VR Experience.
See the 2005 research paper by S.C. Noah Uhrig (University of Essex, UK) entitled, "Cinema is Good for You."
What may be a spectacular VR experience alone in a headset has greater capacity for buzz and impact when shared. This fact was not lost on marketers with a desire for brand awareness or artists thrilled by a new medium. By 2018, VR for either corporate showcasing or contemporary art had risen with gusto.
Partnered with Unity Technologies, Igloo is now being able to integrate interactivity to both games and content. In gaming, players can interact in the comments with controllers, for example. Projections in all contexts can be complemented with gesture control or other separate devices, such as tablets, for more dimensional engagement. Macro views can even be adjusted to size; in a 360-design exhibition for the construction industries, a viewer can navigate and focus on particular part of a building.  
Igloo has been the structure of choice for some ingenious cinematic showcasing. At SXSW, Igloo built a shared VR space to host Beethoven's Fifth, an immersive film directed by Jessica Brillhart, featuring interstellar content from NASA's Voyager Golden Record and the Philharmonia Orchestra. 
This past April 2018, Igloo was also part of the Old Trafford Destination United experience in Bengaluru, India. Commissioned by COPA90 and Uber, Jaunt VR created a 360° film to replicate Old Trafford, the legendary Manchester United football stadium. The UK match between Arsenal and Manchester United was also live-streamed into the Igloo in India. More than 5,000 visitors (most whom would never get the chance to take part in such an event in the UK) were able to simultaneously experience British football two continents away.
A 12-meter Igloo was the basis of an Ice Gym, an immersive and artic fitness experience complete with dumbbells and lifting equipment. The Igloo was illuminated with black lights which demonstrated in real-time how Under Armour ColdGear performed on the training circuit. The lighting allowed visitors to see the training gear's effect on body temperature in frigid environments.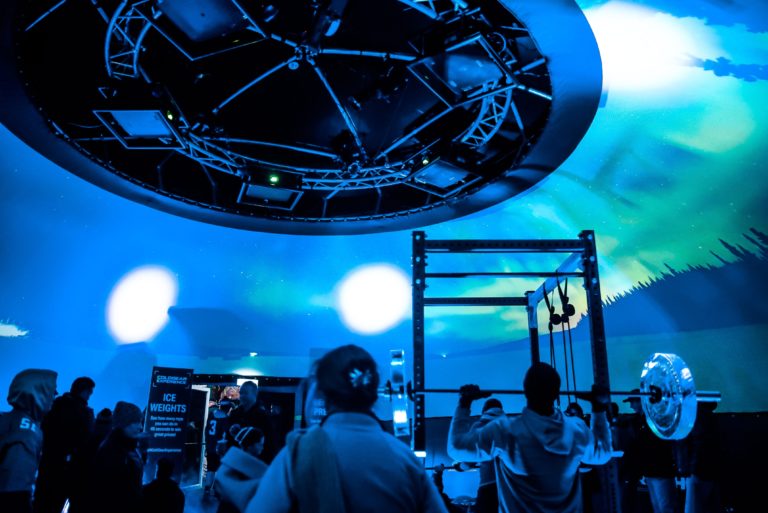 4K (and higher) projectors are quickly becoming the norm.
Because companies have discovered the "dome" experience, too, the realm of technology and creativity have expanded quickly, as well. Technology-wise, 4K (and higher) resolution projectors are becoming the norm, in part because they are becoming more affordable. Camera-wise, Google Jump, Insta Pro 2, and Custom GoPro rig are popular, though the latter uses a more DIY approach.
Sharper projections heighten the visual element, which in turn can be used to create an element of synesthesia. The Blue Bar at The Berkeley in London invites guests to sip a cocktail in the immersive Out of the Blue 360-environment. The projection can shift the taste buds' perception through either contrasting or amplifying the flavor, transforming the taste by replacing traditional cues of sight, sound and smell.
when enclosed spaces can take you places
Part of the reason Igloo has been able to integrate so successfully with VR and 360 is its encapsulating feature. Not only does it foster a heightened sense of place and proximity–much like headset VR–but it creates a specific moment in time away from the outside world, only it is shared with others.
Whether muscling through an IceGym with a few pals, walking through a simulated-football stadium with a crowd in the throes of a real match, or drinking a beverage with ever-morphing flavors à deux, Igloo makes viewing more intense (and likely more memorable).
Whichever way you watch, Igloo has taken geodesic domes a long, long way from either the ancestral days of German star-watching or its more recent birthday party beginnings.
You can do things with Igloo that simply aren't possible with headsets (and vice versa).