Can you Mix Spatial Sound in Adobe Premiere Professionally?
The short answer to that is not really. Adobe Premiere is supporting spatial sound but the workflow isn't accurate and comfortable to work with.  Even though the Facebook360 Workstation plugin, which is the most common professional tool to mix spatial sound, is applicable on Adobe Premiere Pro the work flow is janky and it will be really hard to accomplish a perfect mix. 
Same as when an editor finishes editing a movie, he passes the work to a sound engineer for sound mix, which happens in a DAW station, you can look at mixing spatial sound the same way. Let's get down to the details
Editing 360 video workflow in Adobe Premiere
While working with Adobe Premiere, it is important to make sure that your sequence is modified to support spatial report. You can do so by going to New Sequence > Sequence Presets > VR > and then choosing any Ambisonics sequence based on your video dimensions.
By doing that you are enable the ability to import audio with more than 2 channels. So you could edit with your ambix sound records in the sequence. But now. Let's look at migrating from Adobe Premiere into a DAW station, such as Reaper or Pro Tools.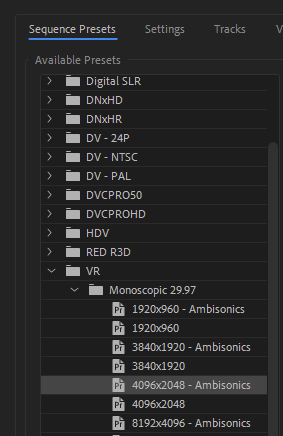 Spatial Sound Microphone Formats
Let's say that you recorded your scene with a spatial recorded base under the camera. A spatial microphone like the Hear360 8Ball, which is recording in a quad-binaural format. Quad binaural is 8 channels of audio. And while you can import 8 channel audio into Adobe Premiere (only in a VR sequence), you can only export a video with 4 channels of audio on an ambix format. 
Which means that if you want to migrate into a DAW station to professional preform a spatial mix, you would lose quality in the migration (8 channel verses 4). Also it will create a format salad which will get confusion really quick. 
Another thing to consider is that while 4 channels ambix is all you need for a YouTube video with spatial sound, Facebook requires 8 channel audio for VR videos on their platform. So you are limiting your distribution by exporting VR videos from Adobe Premiere.
So spatializing a VR mix in a DAW station is Necessary, but how do you edit your video in premiere and move into Reaper or Pro Tools smoothly?
In order to do that it's important to keep your sound formats organized on separated tracks on premiere. 
Migration with Pro Tools & Reaper
If you are working with Pro Tools the migration is a lot easier. This is a huge Benefit for why working with Pro Tools on a VR project. Just go to File > Export > OMF. OMF is a format export which will allow you to move your sequence easily into Pro Tools for spatial mixing. 
If you are working with Reaper, unfortunately the process is a lot more detailed. Reaper does not support OMF. You might find all sorts of plugins on the web that claim to make Reaper import OMF. I have yet to make any of them work… Therefore, you need to export all the tracks manually and then import each track into Reaper. 
With mono and stereo audio files, there is no problem. Just export each track individually with either stereo or mono in the export setting. But when exporting a 4 channel audio track you have to change the audio setting to 4 channel in the export setting and click in Ambisonics the Audio is Ambisonics. This will export as a Ambix. When you import the file into Reaper, be sure to change the setting in the FB360 spatialiser (audio360 spatialiser) to Ambix.
When you are migrating an 8-channel audio file, like quad binaural, from Premiere to Reaper, there is no way to export the file out of premiere without losing quality. Premiere can export only on 4 channels. Therefore you would have to export a reference file, import the 8 channel quad-binaural audio into Reaper and sync it up to the mix. This is the only way to maintain the quality of the quad binaural audio and import it into your VR video.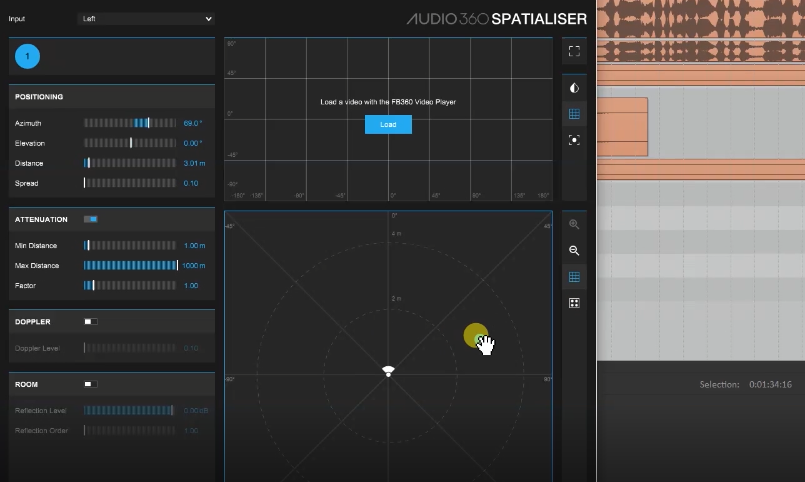 Listen to our podcasts about Spatial Audio