Eddie Lou on China's Answer to "The Magic Moment"
When Eddie Lou strolls onto the stage at VRNOW Con in Berlin this past November 14th, he is easily the most fashionably dressed of the entire conference. His ball cap has a black and white ribboned bow which matches the stitching on the back of his blazer. It underscores the coming theme of his message: China is ahead of trends..
He starts by putting the figure ¥ 213, 550, 497, 011 on screen, a figure that silence the room; it is the number the Chinese spent on a single day, November 11th, aptly-named "Singles Day," was designed to celebrate singledom and the unmarried. It is a relatively recent–since 1993–phenomenon but has grown to be the world's largest online and offline shopping event.
Roughly $30/€26 billion. Yes, billion...on a single day!
Lou attributes not only the large population to its success but the rise of Gen Z's purchase power. Eighty-five percent of WeChat, the mobile messaging, payments and media app, are users between 18-35. The entertainment sector gets 40% of its revenue from the age group–a group that spans just ten years–between the ages of 18 – 28..
The result is there is an army of buying power from the younger Chinese who are not going to be excited to see last year's fashion, technology—or experience. Lou explains that the young Chinese are ruthless when it comes to wanting "new." Cinema seating with wafting scents and odors. Done. VR Games with roller-coaster movement. Done. It can be an insatiable appetite.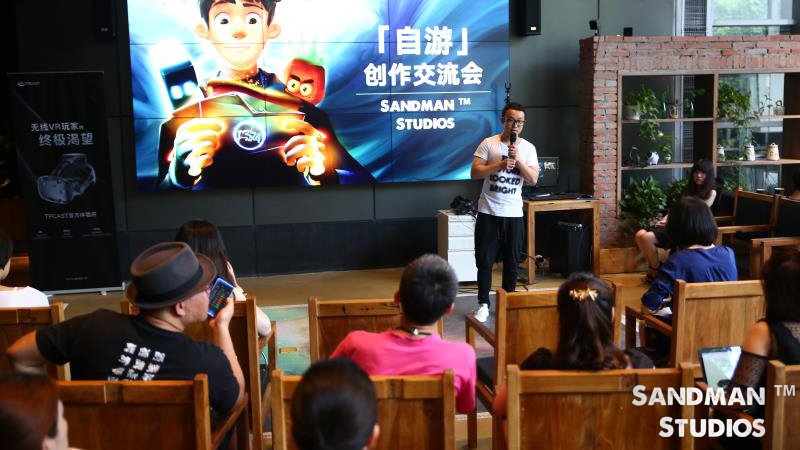 Which is good news for VR producers and content makers. VR is booming in China. How can it not? With a population of 1.3 billion, just a small fraction of users makes for a respectable market. The biggest tech companies of Japan (Ali Baba, WeChat, Tencent, Baidu) are all investing in VR ventures.
Buy-in and investment are two of the reasons VR is taking hold, but another is the awareness factors. VR experiences are available beyond the exhibitions, festivals and cinema theaters and found in venues like pimped out VR arcades all the way to small cabins with a single headset. Currently there are between 4,000 – 5,000 VR locations. Lou describes the Chinese VR market as "raw," noting that only 20% of location-based providers are profitable at the moment. He attributes it to "the wrong management, the unprofessional services, and the unoptimized spaces." All things that a choosy, demanding public wants and expects to stay satisfied.
Lou pauses for a bit, and proclaims the biggest problem–which happens to be the same problem around the globe–is the inability to capitalize on "the magic moment" a.k.a. the first time someone puts on a headset. The conversion to becoming a VR fanatic should start there but the lack of easy-to-find quality content means the moment is squandered, says Lou.
The answer, Lou proclaims, are the global content producers banding together. No one region can claim mastery because every maker, wherever they live, is a babe-in-the-woods in this nascent industry. Yet there are regional strengths:
China has the market, North America has the IP & Talents, and Europe has the Creative & Tech. After all, VR is a media form that emerged after globalization and is not weighted by the structures found in the traditional film industry.
Co-productions have to be well-defined in order to please both parties, and there might be a greater cultural divide when the story comes directly from literature, but not so for experiential content. It has a universal appeal. Lou cites Dear Angelica as a case in point. The visceral reaction to the  beautiful imagery transcended the dialogue.
The top five types of immersive experiences most popular in China?
Room Escape
Art/Exhibition
Destination
Movie Theater
KTV*/Live Music *Karaoke TV
Lou has become a filmmaker himself. His Sandman Studios has made the narrative short entitled Free Whale. Currently he is working on Taiji, a multi-person experience about Tai Chi, the martial art form. It is an artistic brew blending Laban notation (a method used to document choreography) with Chinese calligraphy. Users can spatially draw with ink, "brushing" the air to recreate Tai Chi movements. Taiji is an example of VR's unique qualities, says Lou, "It's the bi-directional nature of VR that gives a singular ability to communicate."
Projects aside, Lou's biggest international push for VR, however, is his most ambitious: the Sandbox Immersive Festival. The first edition was held in June of 2018 in Qingdao and featured Liz Rosenthal (Venice Film Festival), Ted Schilowitz (Paramount Pictures) and Sean Stewart (Magic Leap) among forty other VR heavyweights from China and around the world. Lou believes "You can only way to learn about China when you are in China." so luring VR-elite for keynotes, networking, awards and workshops in a Chinese context seemed like the best way to demonstrate the virtues and potential of China—as well as his plea for global collaboration.
You can only learn about China when you are in China
It is as if the push to impress the Z-llenials is just as present when it comes to spotlighting the local potential on an international stage. For the 2019 edition, Lou promises to turn Qingdao, the port city between Beijing and Shanghai, into a full-on Immersive City. The entire downtown will be lit into a Blade Runneresque cityscape with an array of screenings, keynotes, and networking events.
To encourage content makers further, Lou is announcing a LAB 2019, to help VR makers find funding and "bring work to life." It will be rounded off with a tour of the Chinese market and is also scheduled for the last week of June.
In a way, the Sandbox Immersive Festival satisfies a lot of cravings. Eager VR viewers get to see more high-quality content and experience new imaginings. At the same time, the festival helps feed the VR hardware and maker diaspora with exposure to new markets.
Still, it's the hard-to-please youth who are impatient. "It's generational—not cultural." Trends have always been the domain of the young, but Eddie Lou is able to show in our globalized world  how trends have been coming from the Chinese, too.