Bitter, now Sweet: The Future-Forward Sojourn of Nicolás Alcalá
Nicolás Alcalá leans back on his front porch near Venice Beach. Behind him, waxy, deep-green leaves offset the sky so blue it nearly pulses. It is almost six thousand miles (9000 km) from the tiny town in the southern part of Spain where Alcalá grew up. But here in Los Angeles, a new creative jungle is flourishing and Alcalá is part of the epicenter. "There's a new consciousness growing in L.A.," says Alcalá. "People are moving here from New York, from San Francisco, from Europe, from all over."
Nicolás was the CEO of Future Lighthouse for three years, one of the leading narrative studios on immersive content.
Such consciousness talk is not out of context. Thirty-one years old, Alcalá sees himself the logical result of two loving, hippiesque parents. His father, a painter; his mother, in between earning a living, surrounded him with theater and radio. Absent urban excitement, he thrived on curiosity; he climbed trees and sought adventure. Once indoors, he was still looking for imaginative journeys, either cooking in the kitchen next to his mother, or deep-diving into film.
When he was sixteen he set sail for Madrid, and at ages 16-17-18-19 enveloped himself in filmmaking, breathing scenes and stories, cinematography and dialogue. When a new immersive tech frontier peered over the horizon, Alcalá felt the gravitational pull to explore virtual reality.
Before that he started Riot Cinema with two others his age and then spent five hard long years raising money for their first feature film, the legendary El Cosmonauta, one of the first ever crowdfunded films. It raised near a half million euros with five thousand contributors.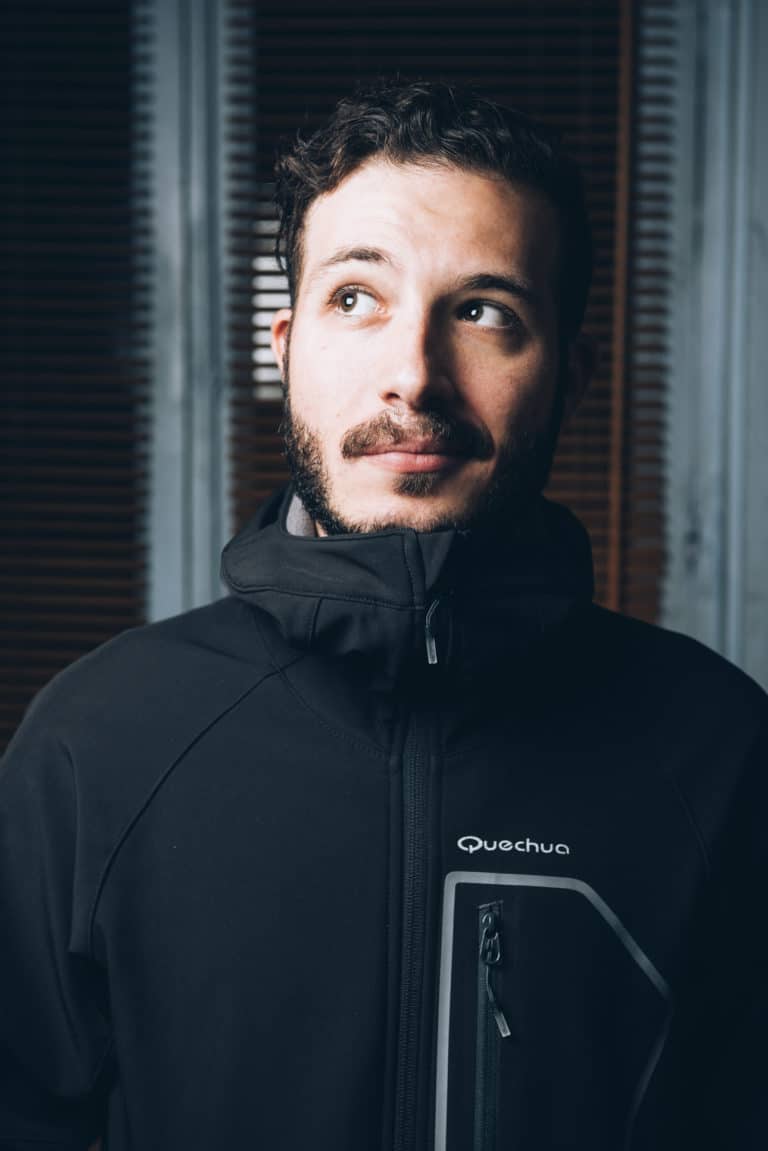 The high stakes drama behind The Cosmonaut's labor, birth and delivery caused unfulfilled expectations. Russian location agreements were cancelled last minute. The filmmakers grew increasingly frustrated and frazzled. Spiraling costs led the narrative to stray from its initial inception; the resulting poetic film lacked the classic storytelling structure–a fact that elicited criticism. The actual release of the film was not a joyous occasion, rather a confrontation with a Sisyphean struggle.
It was during this period, Alcalá answered a generic email–a query if there were job openings at Riot–with untethered fury. Alcalá published the letter on his website mocking the author. Backlash to Alcalás' public flogging was swift, swelling until it slammed the group (Alcalá in particular) creating a four-alarm PR disaster. Alcalá apologized, taking full responsibility (later giving a TED talk about how the exchange was one of the single greatest teaching moments of his life), but between the aftermath of The Cosmonaut's production and the email, Riot Collective's vanguard existence was drowned out. El Cosmonauta did, however, go on to become the subject of ten doctoral theses and even a documentary.
And so while Nicolás had gone from zero to bonafide futuristic transmedia filmmaker all well before the age of thirty, he was left nursing an enormous burnout..
In 2015, he was selected with 79 others from 44 countries to be part of Singularity University Graduate Program, created by Google and NASA with Peter Diamandis and Ray Kurzweil. At Singularity, Alcalá was taught to think about the future, not from the perspective of the present, but in how to forecast where our minds will be in fifty years.
The writer had not done his research and certainly not made the effort to–at the very least–personalize the letter.
Armed with a fresh perspective and two new partners, Alcalá set off to launch Future Lighthouse, a trans-Atlantic VR company based in both Madrid and Los Angeles. The mixed business model allowed it to focus on making branded content for commercial purposes (read: income), but also cinematic content meant for a broad audience.
Future Lighthouse completed 18 VR projects, won multiple awards all over the globe and in a single year (2017), landed three entries to the Venice International Film Festival. Despite the acclaim and prolific output, the capital input was inadequate to keep the venture afloat. By the end of 2017, Future Lighthouse was selling its IP and pipeline.
Future Lighthouse was, as far as Alcalá was concerned, the victim of industry impatience. Applying digital Silicon Valley business models to hardware is inappropriate. Too much investment is required which creates an artificial lack of interest in proportion to the money spent getting a brand new sector off the ground.
In his Medium post, entitled "VR is Dying. How Do We Fix This?" Alcalá lamented the way "VR is Dead" headlines ricocheted from publication to publication spawning a premature and unnecessarily grim outlook for immersive media projects. Cell phones, he pointed out, once needed a widespread rollout of new hardware the same way the VR industry needs headsets to be adopted en masse now. Telephone service providers happily subsidized cell phones to win market share of customer mobile telephone plans. But for VR, it is the chicken and the egg. Consumers will not buy headsets without content. Investors will not pay for producing content without consumers buying headsets.
Midway through Alcalá's push for patience, he wrote the one word crucial to ensuring the VR industry's prosperity. A word he repeated not once, but forty-five times in a row: content. Alcalá explains, "except for Apple, tech has not understood content." No art, no makers, no content—no VR.
With his VR venture deflating, Nicolás Alcalá began to retreat back into his other childhood standby, food. It was a special kind of solace, a connection to his mother, now no longer living. The experimentation, the artistry, the bi-directional aspect—food, like VR, had the makings of the magical experience.
The Southern California sun glows brighter. Alcalá shields his eyes with his hand from and recounts the following episode: "While filming El Cosmonauta, we were in Ukraine and had these local dishes, like cabbage and borscht. I never had Ukrainian food before, but I instantly recognized all of it." He pauses, somewhat wistful, but in awe of the memory. "They were the very same dishes my mom would make."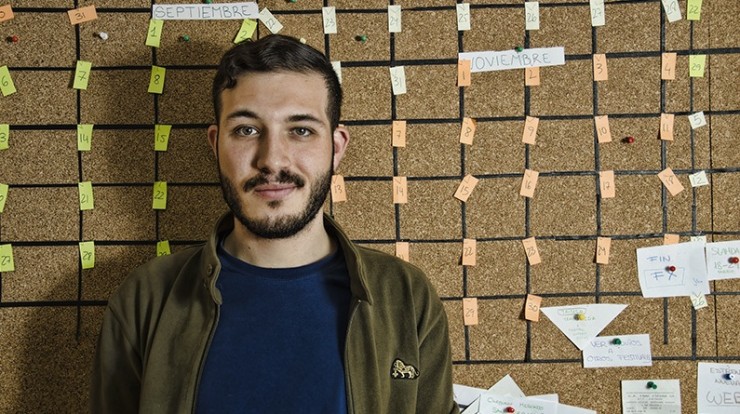 Alcalá discovered a universal law of his own: 'The secret to cooking is the same secret to filmmaking, It relies on rhythm.' Timing is essential.
Evidently in Alcalá's maternal line, the family dishes passed down for generations presumed to be from the Polish Jewish side obscured his family's true origins. Food, like film, reveals stories—and identities.
Alcalá is not leaving film for food but weaving it together with his new project, Cocina Sagrada. He describes it as a new vertical, a "collective of storytellers, experience designers, musicians, artists and chefs putting all our passion for immersive experience" and expressing it with food. Whether filmed or not, Cocina Sagrada projects still maintain a cinematic quality.
There have already been blindfolded feasts, de facto sensory explosions, where people cannot see the guests or the meal. Together with another artist, Gunel Eva, Alcalá creates a food tableau à la minute with paint from homemade edible powders. Hundreds are on the waiting list for his secret pop-up restaurants. In September and October this year, he returns to Europe to take the food and storytelling on tour.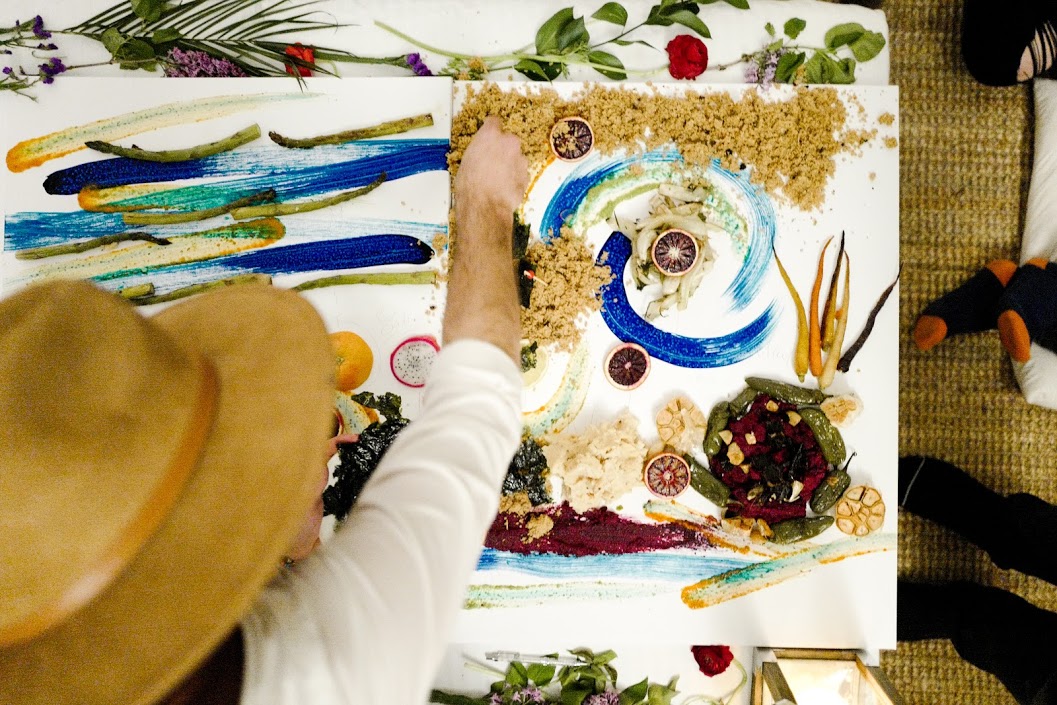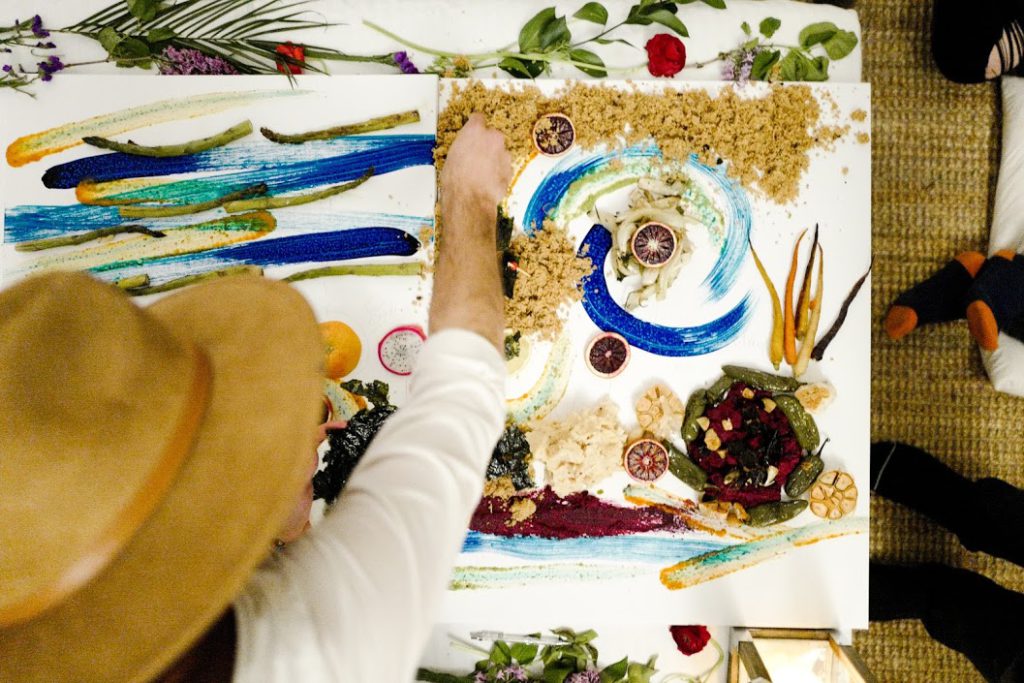 Recently, Alcalá filmed a pilot of a new series, "The Chef's Intern," that was shot in Ecuador with Rodrigo Pacheco, a chef with Michelin experience. The central idea is for Alcalá to follow some of the world's most cutting-edge chefs to absorb their expertise. In turn, Alcalá teaches the chefs how to better tell their story, or that of their creations or ingredients.
While his advice to creatives is "to be curious and break the rules," in the process of making the pilot, he discovered a universal law of his own: "The secret to cooking is the same secret to filmmaking, It relies on rhythm." Timing is essential.
As he retells the wonders he encountered with his first blend of stories and food, the Ecuadorian chef's love of nature, and "vibrational energy," his Spanish childhood upbringing floats back to the conversation, Alcalá cannot hold back. Love, peace, warmth, food, stories. "We've been sharing that experience since we were sitting around a campfire," he says with gusto.
Someone calls out and approaches the front yard to the Venice Beach house. She's holding a pack of supplies, and Nicolás casually motions for her to come in.
"What I love about food is the way it connects." And with that he follows her and heads back inside his Venice home."