Julie Périon & Wiebe van den Ende: Working on Multimedia IP
While Incitement is performing well and getting traction in a lot of festivals, its makers, a Dutch-French duo, is hot on the trails of new work. Their new transmersive VR series was part of the Kaleidoscope Development Showcase at Cannes XR and will consist of five thrilling chapters of two episodes told in non-chronological order.
listen on your favorite platform
Justine:                      Hi, Justine Harcourt de Tourville. And here we are once again at Cannes XR, and I am talking to two makers today, Wiebe van den Ende and Julie Perion welcome, welcome, welcome. Yeah, last time. I know last time I saw you guys, you were at SXSW doing very well there. And here we are Cannes XR. What's happened with Incitement since then?
Julie:                           SXSW really brought us a lot of visibility towards other filmmakers that we did initially. No, but mainly to distributors and other festivals, programmers. So since then this is good news. We have a more festivals coming up, some already done some in negotiation, but it's at least 750 beds and we are hoping to 1520 soon and mainly we have signed some distribution deals. so and also with iconic engine. So for example, if I can name them, they're going to represent us and Amazed VR. So this will be launched tomorrow, if I'm not mistaken, an normally also Samsung so this is almost done. So we are very, very happy.
Justine:                      Yeah. So that's a quite a lot that happens in south by southwest and I so suppose we should do a shout out to Blake to say, Hey
Wiebe:                      Thank you Blake. You rock.
Justine:                      Alright. And so you're here. What's next? What's on the pipeline? What are you doing here?
Wiebe:                      What's next? Well, basically it's also coming back to incitement is we are here to pitch, My Only Way Out to My Only Way Out is now a multi medium IP originated from a 10 times 20 minutes virtual reality cinematic crime drama. And the funny thing is that My Only Way Out started five years ago as a little film of 20 minutes in VR when everybody say you cannot do 20 minutes in VR that's what I wrote. And then they say, you cannot do moving cameras in VR. That's what I did. And we tested. But it was also a grew too big that there was never the funding. Uh, that's why Julie and me said, okay, we need to do another piece, something completely different from this to prove that we can make an exceptional nice story, even if it's a completely different genre, to show how weak thing that cinematic VR for us can be. Okay. What the moving cameras with the characters, with the acting with a good script and a, that's why we made incitement. Uh, and it's good to see that an incitement is doing very well. So now also My Only Way Out is back and picked up and there's a lot of traction about it.
Justine:                      Well, congrats. What do you mean by traction? Are you finding the funding? Are you finding the, Oh, we wish. No.
Wiebe:                      Okay, let's let mixer, so only a, it's, it's a multi medium IP. So what is that? What it means is that I wrote a story that's about 10 episodes. And that story we want to tell in a TV series of VR series and a comic book series and maybe even make a game out of it. And so if you all do all these things together, that's why they call a IP. And sorry, intellectual property. Yes, that's his name or what it is. And so it started writing as if VR series and what makes it special in VR and in other ways is that you always are, let me rephrase. My Only Way Out is a story that you can tell in different ways. It's, it's like history when something happens the way you tell the story and where you put your perspective yes.
Wiebe:                      Creates a completely different story. Right? So that's why, for example, as a TV series, I will do the same story completely chronologically where you build a, build one character towards the other and let them battle towards the end. But in virtual reality, where you are in a bubble, we want to tell this story from a bubble. So in the VR series, what were you pitching here? It's five chapters of two times 20 minutes. And every chapter you're a murdered protagonists who is really living his or her moments that influence them to finally, of course, getting them killed.
Justine:                      Oh, that's an interesting angle because I don't think usually when we do, we don't usually have the protagonist as a murder.
Wiebe:                      Oh No, no, he's murdered. Oh, he's perfect. He's not the murderer. Oh, so yours, sometimes they're murderers off. No, the thing is so, so basically in the stars you get killed and then you're the ghost. The ghost is looking back and reliving the point of having the pivotal moments in life that caught him or to the end. Okay. And that in the end for over the entire series a will be a non chronological tail that will be a maturation plot of one person becoming the next crime boss.
Justine:                      Alright. And so you're, what you're saying though is in this medium, you're going to tell it in a different way than you would tell it. For example, in the comic book you're going to tell which is, which is logical of course, but it's kind of a, a mirror of the way VR can take many angles of depending where you look and in this way you're just going to be,
Wiebe:                      yeah, we want to take it through. And to an extreme in the VR especially series, it is, you are the ghost who's looking back. So you're in his bubble looking back on his or her life where they made them wrong, they made a mistake because they were too confined in their bubble, missing the grand story at play.
Julie:                           Very good. And you're working with kaleidoscope, is this correct? Yes. What do we want to talk to? Working political, but Dev.lab, it's the beginning for us. So it's a, we met the good name. We knew him before, a bit stayed emails exchanged and the in south by southwest. Let's change everything. As I said earlier, I gave us some visibility on Inside Man. And then what's coming up because everybody asks us: what are you doing what's next, what's coming up. And well for everybody to new. But for us it's like years we're working on that, eh, so hopefully is going to give us a new, a sort of rebirth for us and giving it to kaleidoscope is going to give us access to new investors, probably a new funding possibilities. So it's just a beginning of a new collaboration. We'll see where it leads to.
Justine:                      That's, that is exciting
Julie:                           Because as you understood it, it's quite a big project. I think it's very expensive. Uh, so we need to take the development or steps, the steps needs to be smart. It's international right now. We stayed in the European Joan, but we definitely have to go branch out there, branch out and Kaleidoscope gonna give us providers that, that chance I guess.
Wiebe:                      Yeah. And I think they they also see the potential of you've right from good characters then you can create bigger things than just a standalone VRps or, or, or an experience. Right. And maybe it's also, I realize I didn't say anything about the plot. Well so far.
Justine:                      Do you want to say something about that? Can say something about the plot.
Wiebe:                      Yes. No, I can say that basically the pilots, it's about lev and his best friends and see no alternative, but to rob the same crime boss who just gave them a deadly ultimatum.
Justine:                      Okay. That's a pretty, that's a pretty intense, that's a condensed thing.
Wiebe:                      Very good. Frozen. The excitement. It's really about I mean it's, it's just filler crime like a heist. The goes wrong, but it's mainly about friendship, about loyalty, about, it's about perspective and a lot of things, especially the story arc of the, of the series. It's about how even your best friends can keep you down because you're always trust on his skills. So as long as he's around, you will never be there and complete your own growth.
Julie:                           Oh, that's, that's a rich story. Or I really least rich characters and so, and, and the characters, these are some very manly characters. Any women in the film?
Wiebe:                      Yes. Yes. That's important for both of us, Wiebe and I. Eh, should, they are a, this group of friends amongst them, there's this very strong character called Sabine. She has a very important role. Not In the first episode, but after it's coming up, she will ever own episode and the badass mafiosa so exactly. So it's like a 60 years ago, a woman who's actually a ruling the whole city and she's the bad guy show and she also has her own episode. So it's really for Wiebe and I was very important. It's not even an effort for us, but it seems that it needs to be done to make sure that female role at whatever age are definitely represented.
Justine:                      Well. Julie is 2019 I'm certainly happy to hear it. Thanks. Let's get Julie, let me ask you our final question. Why Cannes? What is important for you? Why are you here at Cannes XR,
Julie:                           oh, I have a special relationship with Cannes Myself. That's, I counted today. I think it's my 14th so yes, I started when I was 21 is a jury member, the youth. Do you remember? Oh Wow. Yes. I started high and I aim to keep on keeping stuff quite high. So Cannes, yeah. So there's certain relationship to festival, I love, I know all the ins and outs and that was Vbu we, that's where we met four years ago. We made this youngest vessel. Yes, we have both living in Amsterdam and we met in Cannes and it became a strong relationship as a friends and also colleagues, let's say creatives and this XR are rising up. It's been three years now in the, in next at this coming up and things are happening here. Not only here but also things happen here really. So it's easy to meet on the beach with the glass of champagne or just here, here in the basement. A, everybody's super friendly. Different from SXSW. But it brings different things.
Justine:                      That's, yeah, it does bring different things. Yes. The scale is different. and again, yeah,
Julie:                           we're talking earlier about at trying. It's in Europe, but it really brings a strong international tuition outside Europe. So American and Asian are coming here massively. Yes. So this is what we're aiming at. Clearly we're not hiding that today. We want to talk to them. Oh, that's true.
Wiebe:                      Yeah. And I think there's a, there's the cinematic aspect for us is important. Cannes is the cinematic festival. So also the Xr is a thing, but we present us in a cinematic festival or project. And I think what's always special about Cannes is that because a lot of people are here and a lot of producers are here, so many things going to happen really fast.
Justine:                      Well, like, you know, whereas, you know, SXSW has a, you know, a smorgasbord of activities and interactive and music and here with the central folks as being cinematic. That does make a lot of sense. Well, super, thank you both for being here today and thank you very much.
Wiebe:                      Thank you. See you next time.
It was during his Social and Cultural bachelor at the HVA, Amsterdam that it all came together. Wiebe van den Ende wanted to write and direct movies. After convincing the school board that the qualifying competitions could be gained by producing Film, TV and Documentaries he started his internship at TV West; Directing and editing items.
The urge for storytelling, the art of framing and his musical skills it al came together in editing, revealing the world behind the frame. 
Currently Wiebe van den Ende is working on the 10 x 20 minutes VR-project MY ONLY WAY OUT with Rinkel film and La Mado FIlms. The project was recently presented as one of the most innovative VR projects of the world at IFFR, Cross Video Days, VR Days Europe and in June 2018 Sandbox China.
Julie grew up in Bretagne studying Aerospace Engineering in Toulouse and Montréal, before moving to the Netherlands in 2006 to work at the European Space Agency in Noordwijk. Her passion for cinema and filmmaking pushed her to enroll on a Film Production course at the Film Academy of Amsterdam in 2010.
After having worked on various film productions in Amsterdam, Julie felt it was time to take the plunge and produce her own film projects. Armed with a burgeoning international contacts list, a Palm beer in one hand and a list of ideas in the other, P'tites Madeleines Productions was born in 2013.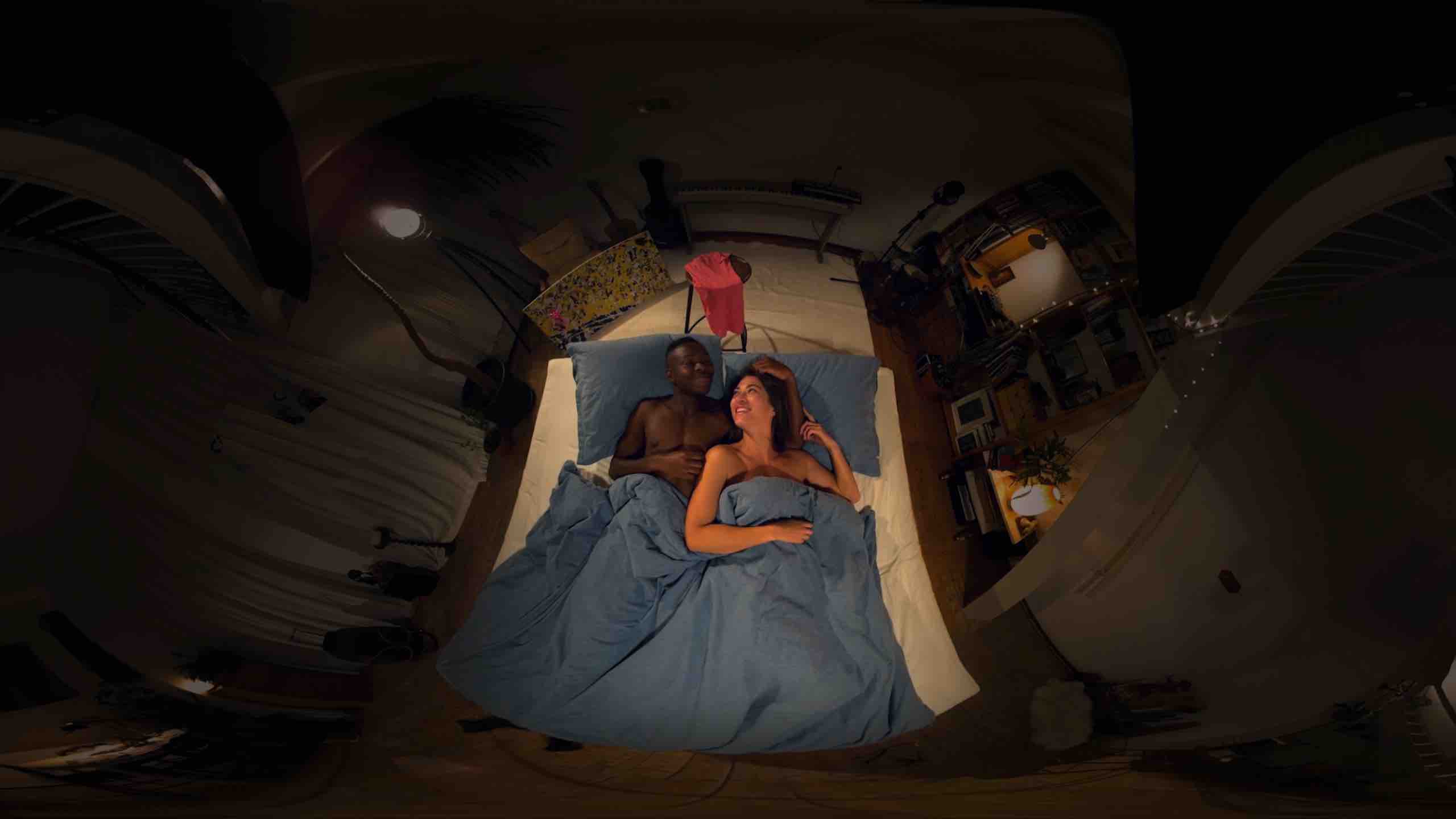 Incitement is a mind game between a couple that cannot help but take their competitive practical jokes a bit too far to set the other off. Virtual Reality is the ultimate medium to allow the viewer to really experience the intimacy of this couple from a person's perspective and get to hear his and her inner thoughts.