VR NOW Con & Awards – Europe's premier conference for Immersive Media. Started in 2016 as a way to bring the international community of VR creatives, business developers and technological masterminds to Berlin and Potsdam, the most exciting region in the world. Forgive us the bias.
In 2018, the VR NOW Con & Awards becomes part of something even bigger – the MediaTech Con.  MediaTech Con is the key convention for future media technologies and the business behind entertainment. Together with VR NOW CON & Awards  and  Changing the Picture (CTPiX), MediaTech Con offers a common platform with pioneering talks and workshops within a two-day program in Potsdam-Babelsberg.
VR NOW started working with partners such as the European Film Market (EFM) of Berlinale on specially tailored subevents for their existing formats. Since 2017 we host events within the framework of EFM Horizon. At the EFM VR NOW Summit you will  explore the opportunities of Virtual Reality and 360 video – as a technology, as a platform, as a medium – together with us and our partners. This event is dedicated to professionals from the film and TV business who are fascinated by the artistic possibilities and business opportunities of immersive media.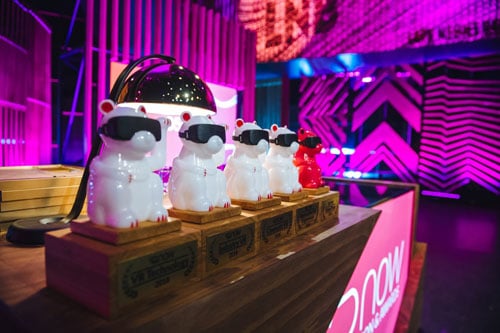 The VR NOW Con brings together an eclectic mix of exciting people from all over the world. International speakers give inspiring input on developments, trends, and emerging technologies. The goal is to show the world what is happening now in the VR, AR, MR and other realities.
Award categories
Learning solutions

Cinematic experience

Visualization

Interactive experience
if you are a creator of Virtual Reality, Augmented Reality or Mixed Reality projects or 360° videos, then this might be your chance to receive maximum attention:
The VR NOW AWARDS are now open for submissions – just keep on reading this newsletter to find out everything about how you can apply, the award categories and how to receive our Early Bird discount.
The VR NOW Awards honor and highlight the greatest achievements in VR, AR, MR and 360° video. Participants can submit to four different categories, while all nominees compete for the Grand Prize.
Regulations
Any XR project is eligible as long as it has not been exhibited or released to the public before January 2018.
Projects can be submitted to more than one category, but award management and jury reserve the right to consider a project unfitting by category description. 
Even though called VR NOW Awards, any Virtual, Augmented or Mixed Reality project is eligible. XR is used as a placeholder indicating that there are no restrictions in this matter.
Submission phase ends on September 15, 2019.
​Actually, it's quite easy: Simply hit the buttons below and you'll be taken to our Eventbrite Shop for the submission fee payment* and to our submission form.
Link to eventbrite: click here
Link to submission: click here