The Slamdance Film Festival is a showcase for raw and innovative filmmaking that lives and bleeds by its mantra: By Filmmakers, For Filmmakers. No other film festival in the world is entirely run and organized by the creative force that can only be found in filmmakers. Slamdance has created a track record for showcasing breakthrough artists that is beyond dispute. Filmmakers who first showed their work at the festival are now amongst the biggest names in the entertainment industry.
"Of all the Sundance myths that developed over the last 35 years, the biggest fallacy is that of being magically discovered and launching one's career on a snow-covered January evening in Park City. If anything, when that does happen, it's across the street at Slamdance" – IndieWire
The Slamdance Film Festival accepts films in every genre, on any topic, from every country around the world. We spotlight low-budget Narrative and Documentary Features by first-time directors, Breakout Features from non-first time directors, short films across genres, and episodes. We do not disqualify any films based on premiere status or date of completion.
The festival program is selected entirely from our blind submissions pool and no films are given special treatment based on who made them or who they know. Over 200 Slamdance alumni filmmakers are responsible for the programming and organization of the festival.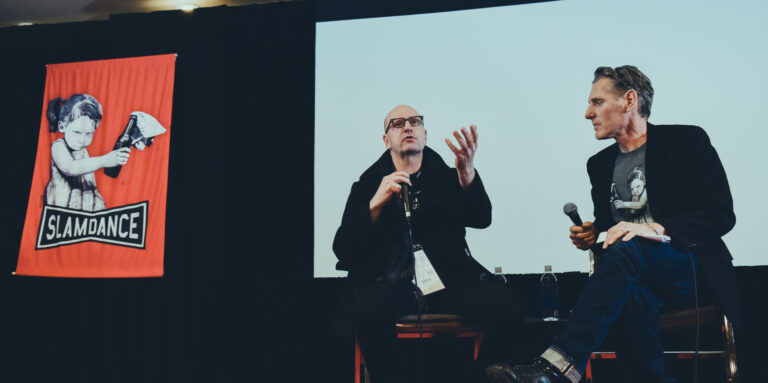 With a variety of backgrounds, interests, and talents, but with no individual filmmaker's vote valued more than any other, Slamdance's committees have been able to stay close to the heart of the DIY spirit and the bleeding-edge of contemporary filmmaking.
This year, Slamdance would like to encourage additional film submissions from directors of color to work towards greater racial and overall diversity in our submissions pool and the film industry at-large. We are extending the early deadline rates of $60 for features, and $40 for short films to POC directors until the regular deadline of August 26th.
Categories
Jury Award for Narrative Feature 
Jury Award for Documentary Feature 
Jury Award for Narrative Short 
Jury Award for Documentary Short 
Jury Award for Animation Short 
Jury Award for Experimental Short 
Audience Award for Narrative Feature 
Audience Award for Documentary Feature 
Audience Award for Best of Breakouts 
Outstanding Acting Award 
Spirit of Slamdance Award 
Established in 2018 by Slamdance alums and critically acclaimed directors Anthony and Joe Russo (Avengers: Endgame), the Fellowship is designed to foster and support young filmmakers while creating a platform for new and emerging talent. 
Anthony and Joe will select one filmmaker to receive a $25,000 prize, consisting of an office at their new Los Angeles based studio, mentorship from Anthony and Joe, and a cash stipend for one year.
Additional prizes 
Each year significant cash and service prizes are awarded to Sparky Award recipients. 
The Slamdance Cinema Club offers theatrical showings of select features and shorts throughout the year following each festival.
Interested in buying tickets or need more information? Visit their website!