Raindance Film Festival is dedicated to fostering and promoting independent film around the world. Based in the heart of London, Raindance combines Raindance Film Festival, training courses — which are offered throughout the year at our 10 international hubs — and the British Independent Film Awards.
The organisation was founded in 1992 by Elliot Grove as a thought experiment: can you make a film with no money, no training and no experience? The first Raindance event was a masterclass with Dov Simens held in London in April 1992.
Just over one year later in October 1993 Raindance Film Festival was born, held at London's Prince Charles Cinema and Ciné Lumière, giving What's Eating Gilbert Grape its UK premiere. Since then, Raindance has hosted the UK premieres of The Blair Witch Project, Dead Man's Shoes, Memento, Ghost World, Capturing the Friedmans, Down Terrace, I Origins and Old Boy. The festival runs annually in September in London's West End.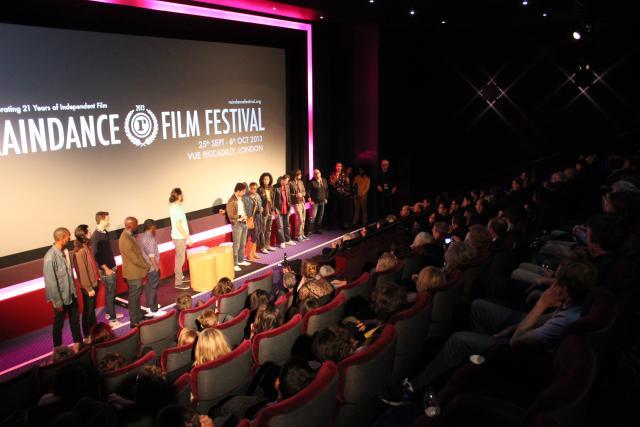 In 1998 Raindance created the British Independent Film Awards, an annual celebration of the best UK independent films of the year held in December. Top honours have been awarded to My Name is Joe, Billy Elliot, Vera Drake, This Is England, Slumdog Millionaire, Pride and American Honey.
Operating for more than 25 years, Raindance offers a wide range of evening and weekend film training courses in cities around the world, including London, Toronto, LA, Berlin and Paris, as well as online — all taught by experienced film professionals. Our courses, classes and workshops include some of the most popular in the world, spanning disciplines and crafts such as screenwriting, directing, producing, cinematography, special effects, editing, lighting, sound and short film making to name just a few.
The Raindance VR Arcade is the festival's home to pioneering Virtual Reality experiences and 360 films, of which many will receive their world, European and UK premieres. Virtual Reality films, of any genre and type, under 45 minutes long are considered for selection.
Categories
Best Interactive Narrative Experience
Best Animation Experience
Best Cinematic Experience
Best Documentary Experience
Best Social Impact Experience
Best Music Experience
Best Multi-Person Experience
British Award: Best UK Experience
Discovery Award: Best Debut Experience
Grand Jury Prize: Best Immersive Story
Raindance aims to champion and award extraordinary immersive experiences, and help new voices to be discovered. This year they invite you to submit your 360/180 films, Virtual, Augmented or Mixed Reality experiences. These can be developed for a number of platforms using various immersive technologies, including: Vive, Oculus Quest, Oculus Go, Magic Leap,…
Raindanec festival is always on the lookout for new cutting edge experiences that push the boundaries of immersive storytelling. Each year we evolve our awards categories to reflect the latest advancements in this fledgling medium. Our categories for the Raindance Immersive Stories Awards in 2018 were:
Submissions are now open on FilmFreeway.
Please upload a trailer, and provide a Google Drive or Dropbox link to your 360 film or interactive VR/AR/MR experience. We watch each submission in the appropriate headset.
For questions or enquiries please contact
Mária Rakušanová, Curator of Raindance Immersive Stories and Interactive Worlds