The story and legacy of Cinequest is bringing together the Silicon Valley's technologies and spirit of innovation with the arts to empower great creations—and connecting audiences, youth, artists, and innovators with these creations and with each other, improving our lives and our future. Cinequest's uniqueness and impact result from being ahead of the curve in the powerful integration of creativity and innovation. Cinequest does this through its Film & Creativity Festival and Picture The Possibilities.
Cinequest is an annual independent film festival held each March in San Jose, California. The international festival blends the cinematic arts with Silicon Valley's innovation. 14 VR Films, 14 VR Experiences and 5 VR workshops were held during the Cinequest Film & VR Festival in San Jose and Redwood City.
The festival connects artists, innovators, media, and audiences—as people converge to experience a potent mix of immersive stories from around the globe and breakthrough technologies. Yet, Cinequest's stellar reputation not only hinges on its knack for creating a powerful line-up, but also for securing distribution for many of its honored filmmakers. Netflix, IFC Films, Amazon, MSNBC Films, Oscilloscope, Sony Pictures, Magnolia Pictures, Kino-Lorber, eOne, Lionsgate, PBS, and HBO are just a few of the many that have signed deals with some of Cinequest's success stories.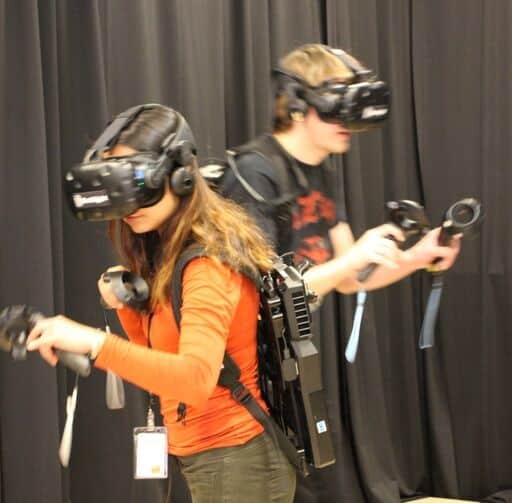 It was voted Best Film Festival by USA Today Readers. They program 85-90% of its festival from paid submissions annually, the highest percentage of the world's most influential film festivals.
"This festival is one that sets the trends and is actually ahead of the trends. Other festivals are copying Cinequest; I see it all the time."– Chris Gore (Ultimate Film Festival Survival Guide)
Cinequest, Film and creativity festival
Voted Best Film Festival by USA Today Readers, the 2020 edition of the festival will do as much with Film & Technology as ever while expanding to include additional creative experiences such as virtual and augmented realities, fashion, writing, television, dance, art & design, a creativity summit, and more!
Set in the home of the world's most influential media technology companies (Apple, Cisco, Facebook, Twitter, Netflix, LinkedIn, Zoom etc…) the festival empowers global connectivity between creators, innovators, youth, and audiences. Cinequest has led the world in its showcase and implementation of the innovations that have revolutionized creativity and filmed media.
Although over 105,000 attend Cinequest, the four-block proximity of its state-of-the-art San Jose venues along with its renowned hospitality, makes the festival experience as warm and personal as it is electrifying. This film festival presents over 130 World and U.S. premiere films, groundbreaking innovations, virtual and augmented reality experiences–plus fashion, writing, dance, art, and design integrations. Picture The Possibilities by Cinequest holds its annual Creativity Summit during the Cinequest Film & Creativity Festival as well. Over 1,100 artists, innovators, and youth present from over 50 countries each year.
Cinequest's highest honor, the Maverick Award, recognizes bold, visionary and creative forces—exemplary in the worlds of Silicon Valley innovation and the creative arts. Its Maverick Spirit Awards recognizes artists (Nicolas Cage, Harrison Ford, Tatiana Maslany, J.J. Abrams, Rosario Dawson, Jennifer Jason Leigh, Ben Kingsley, and Sir Ian McKellen are amongst the guest recipients). Its Maverick Innovator Award recognizes technologists (including Martin Cooper, father of the cell phone). A Maverick stands apart from the crowd willing to create and innovate from a place of personal yet global vision.